Mouthpieces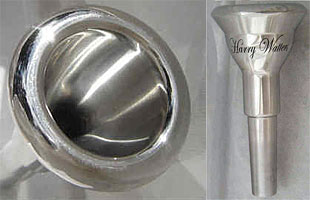 Giddings and Webster Mouthpieces are producing a new Harry Watters Signature Model trombone mouthpiece. The superb craftsmanship exhibited by Giddings & Webster represents a huge leap forward in mouthpiece production. Ivan and Bob are true artists who pay meticulous attention to all design details. This new Signature Model mouthpiece provides excellent response, unequaled flexibility & unparalleled comfort in every performance scenario.
Harry Watters Signature Model Mouthpiece is a versatile mouthpiece similar in size to a Bach 6 1/2 AL. This mouthpiece is designed to project a solid core of sound throughout the range of the instrument, while still keeping the beautiful singing quality that lead playing demands. Harry uses this mouthpiece while playing in the Army Blues Jazz Ensemble & The US Army Brass Quintet in Washington, DC.
For more information and purchasing details visit the Giddings and Webster website.